By Dan Blair, a marriage counselor and family counselor.
"Death is like an assault on our pysche.  It reminds of mortality and helplessness. It speaks of the brief time between birth and sleep. It steals the life out of you; ironically you long for rest and not life, after it appears.  Death stirs faith and fear. It calls out to be reconciled, to be accepted, to be appreciated… The peace, the ultimate healing, the glories of Christ.  Although breathing is what separates us from the lost, it is hard to breathe, hard to acknowledge that your body moves without effort, almost against your will, while they are still.  For a moment the blood runs thick, seemingly slowing as you've just witnessed. But you are alive and cannot will it to stop, the blood flows, it almost hurts to feel it course through your tired body.  Death calls to our need for comfort, our need for each other, to be told "it's going to be ok", but the lifeless body tells us otherwise. Such confusion. Such mixed messages.  A part of life.  Life, a part of death.  The world continues, a tunnel of thoughts and feelings encase you.  Stop! stop!  You want the cars to stop moving, the people to stop talking, the world… Do you not know, death has come again.  Death will always come. I knew it then and my heart and mind filled with dread, an inescapable dread, growing closer and closer to those I hold closest.  Let go.  Don't hold on, for death will always steal what you love.  You feel death in your mind, in your body, in your heart.  You can never escape.  That's what death does" – (DREJS).
When a spouse dies, obviously it is a difficult time for anyone to deal with, but what are some of the types of feelings experienced?
What is worse about having a spouse die at a very young age?
What are some of the signs that a person is not dealing very well?
What can people do to mourn and move past the loss?
How can they know they've moved on?
What are some local resources available for people who have lost a spouse?
Can you tell me a little bit more about your experience counseling people who have lost a spouse?
---
Dealing with grief means looking back, moving forward
By HILARY GOWINS – [email protected]
http://www.nwherald.com/2011/07/21/dealing-with-grief-means-looking-back-moving-forward/a6altfn/
LAKE IN THE HILLS – Misty Zimmerman and Patrick Bauer had known each other since they were children growing up in Schaumburg.
Their young lives were intertwined with all of the fondest memories of youth. They went to the pool together. They watched each other play sports.
They started dating when Zimmerman was 11 and Bauer was 12. Thirteen years later, they were married.
"He was energetic and free-spirited," Zimmerman said. "He was a thrill-seeker. He was just a lot of fun, a great friend, very passionate."
Bauer worked as a crane technician in Chicago. On May 9, 2000, he was supposed to have the day off from work, but he received a phone call to head downtown for a job about 2 p.m.
It was a rainy, stormy day.
Up on his work equipment, Bauer tried to jump a crane – during that jump, tragedy ensued.
Some of the pieces of the crane were faulty and during his attempted jump, there was an accident. Bauer ended up falling to his death.
Zimmerman first heard about the accident from her sister over the phone but didn't think much of it. While she still was on the phone, police arrived at her door and told her that the fall had been fatal.
"I didn't react," Zimmerman said. "I didn't cry. All I could think of was, 'He's invincible.' I was 27 when he passed. I thought, 'This can't be right. He rode fast motorcycles, he drove fast cars, and nothing ever happened.' To me, he was invincible."
Zimmerman said she was robotic and numb for the first year after her husband's death. She doesn't remember much about that time except getting up and going to bed.
"You lose the friendship," she said. "For me, unfortunately, I felt like I lost myself. I lost who I was. I didn't know who Misty was anymore. You lose a little piece of you, almost like you've lost your heart and you don't know how to get it back or how to fill it back up."
Counselors say that the kind of complicated grief Zimmerman experienced is not uncommon, though it does require grief counseling.
"No one is supposed to die young," said Dan Blair, a licensed clinical professional counselor and founder of Blair Counseling in Crystal Lake." People feel a profound sense of injustice. It is a lot more difficult to let go."
Centegra Hospital-McHenry Chaplain Bill Muilkens said frozen, robotic behavior like Zimmerman displayed is called complicated bereavement, where a person's stuck in that time, not moving forward, not progressing and not evolving. People in this state tend to lack expression, don't express grief or joy, and have no highs or lows.
"That's what life is filled with and that's normal," Muilkens said. "If a person seems flat, no high or low, that's a key element of complicated grief. If you end up in a complicated grief, you need to be involved with a mental health professional and move toward healthier grieving."
After Zimmerman's first year without her partner, she sought help of her own. She went to counseling. Along with her mother-in-law, she went to a bereavement group at a church in her area.
"It was a wonderful experience because it made you realize you're not alone," she said. "This happens to a lot of people, and death is a natural part of life. You know that, but I don't think you suck it in when you're young and you have your whole life in front of you. It makes you think differently."
Muilkens said another way to move forward is to tell stories about the person who has passed.
"Telling stories is one of the best ways to deal with the death of a loved one," he said. "Sharing stories with family and friends, talking about the mom who burned cookies or her favorite blue dress, that apron she kept hanging in the closet. That was reality. Sharing stories is one of the best ways to properly address grieving and the fact that a person has died."
Accepting this reality is one piece of the puzzle that Blair pointed out, as well.
"Grieving includes normal reactions to an event that you did not want that leaves you without what you cannot have," he said. "It is a devastating event which requires years of rebuilding. The recovery reflects an ever-changing balance between releasing the emotions and thoughts about your loved one and finding peace, and refocusing on building a 'new normal.'"
Zimmerman said it took her about two-and-a-half years before she was able to start dating again, but once she did, she was lucky enough to reconnect with Shawn Zimmerman, who had been friends with Bauer. The two were married in 2007 and now live together in Lake in the Hills with their happy, healthy 10-month-old son named Erich.
"I didn't have to give up my first relationship," she said. "It wasn't a divorce or a bad relationship. Shawn was a very generous and forgiving person, and he allowed me to be myself and to heal, as well as have a relationship with him."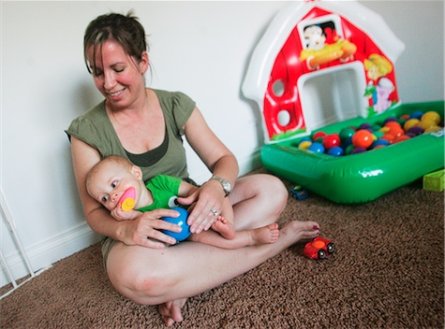 Misty Zimmerman plays with her and husband Shawn Zimmerman's son Erich, 10 months, at their home in Lake in the Hills. Zimmerman lost her first husband and childhood friend Patrick Bauer in a fatal accident in May of 2000. (Amanda Schwengel)