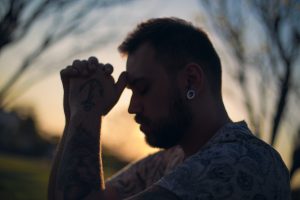 Mark Vroegop in his book Dark Clouds, Deep Mercy acknowledged that sad situations sometimes don't get better. Problems don't always get solved. Conflict doesn't get fixed. Children die, couples divorce, and senseless tragedies occur both in our lives and in our world.
He observes that we go on managing our life like jugglers spinning plates on long sticks. When we feel utterly overwhelmed, we comfort ourselves and/or try to escape. For example, soaking in the tub, splurging on a new dress, sweating on the treadmill, or heading to the mountains for the weekend. We smile and say we are trusting God, but deep down we doubt. We're only trusting that He doesn't load us up with more plates. Jesus said trials and tribulations will occur, and sometimes we are waiting for the other shoe to fall.
Models of faith and mental health involves at some level an acceptance and expression of emotions, in a safe relationship, and then there is subsequent changes in thinking and behavior.
If you're familiar with the Bible, you'll see a lot of people in pain. If you read the Psalms of lament, you'll discover a lot of creative complaining about it. You'll find expressions of sorrow, fear, frustration, and even confusion. In other words, the Bible is full of complaints. And apparently they aren't sinful. In fact, they were set to music as an entire congregation sang their frustration.
It takes faith to pray a lament. Laments are possible only if you believe that God is truly good. God's promises were frequently cited in order to make a complaint. The character of God – His sovereignty, goodness and love, create a tension when we face painful circumstances.
Instead of running from sorrow, lament embraces it.
God, God . . . my God!
Why did you dump me miles from nowhere?
Doubled up with pain, I call to God
all the day long.
No answer.
Nothing.
I keep at it all night, tossing and turning.
(Psalms 22:1-2)
Suffering seems to be associated with feeling alone.
God, are you avoiding me?
Where are you when I need you?
(Psalms 10:1)
Why, God, do you turn a deaf ear? Why do you make yourself scarce?
(Psalms 88:14)
We get angry.
Get up, God! Are you going to sleep all day? Wake up! Don't you care what happens to us? Why do you bury your face in the pillow? Why pretend things are just fine with us?
(Psalms 44:23-24)
We think God is punishing us.
I'm the man who has seen trouble,
trouble coming from the lash of God's anger.
He took me by the hand and walked me into pitch-black darkness.
Yes, he's given me the back of his hand
over and over and over again.
(Lamentations 3:1, 3)
We wear out and want to give up.
Long enough, God—you've ignored me long enough.
I've looked at the back of your head
long enough.
Long enough.
(Psalms 13:1)
He ground my face into the gravel.
He pounded me into the mud.
I gave up on life altogether.
I've forgotten what the good life is like.
I said to myself, "This is it. I'm finished.
God is a lost cause."
(Lamentations 3:18)
Bitterness can enter the picture.
He has made my flesh and my skin waste away; he has broken my bones; he has besieged and enveloped me with bitterness and tribulation.
(Lamentations 3:4-5)
In the Bible though, a pattern also develops where in the midst of pain we see memories of God's goodness in the past.
Once again I'll go over what God has done, lay out on the table the ancient wonders; I'll ponder all the things you've accomplished, and give a long, loving look at your acts.
(Lamentations 77:10-12)
I called on your name, Lord, from the depths of the pit.
You heard my plea: "Do not close your ear to my cry for relief."
You came near when I called you, and you said, "Do not fear."
You, Lord, took up my case; you redeemed my life.
(Psalms 13:5-6)
Perhaps we can find hope in the future, though we cannot explain why we suffer in the present. In the Bible we usually do not find specific answers to our "why" questions. Instead, we are giving "who" answers, namely, Who is God and who we are to Him. His perfect love for us casts out our fear (1 John 4:18). Based on the "Who," we can boldly ask and trust in His character and promises. Our struggles may not vanish, but a sense of divine abandonment can.
Three characteristics of Paul's prayers in the New Testament is that he praised God for grace that allowed others to perservere. Perserverence and other character traits seemed important. He also had an eternal perspective on the storms in life. In other words, what does whatever is happening right now mean for the kingdom? Finally, as storms are often out of our control, there is a reliance on God's power over our own.
Meanwhile, the moment we get tired in the waiting, God's Spirit is right alongside helping us along. If we don't know how or what to pray, it doesn't matter. He does our praying in and for us, making prayer out of our wordless sighs, our aching groans. He knows us far better than we know ourselves, knows our pregnant condition, and keeps us present before God. That's why we can be so sure that every detail in our lives of love for God is worked into something good.
(Romans 8:26-28)
Jesus was a Man of sorrows and acquainted with grief. He knows the sorrows of injustice, hypocrisy, false accusations, physical weakness, temptations, betrayal, and feeling abandoned.
Now that we know what we have—Jesus, this great High Priest with ready access to God—let's not let it slip through our fingers. We don't have a priest who is out of touch with our reality. He's been through weakness and testing, experienced it all—all but the sin. So let's walk right up to him and get what he is so ready to give. Take the mercy, accept the help.
(Hebrews 4:14-16)
In light of His past goodness and future hope, we are still invited to pour out your pain completely for each day.
You've kept track of my every toss and turn through the sleepless nights, each tear entered in your ledger, each ache written in your book.
(Psalms 56:8-10)
Use gratitude to remind yourself Who God is, and who you are to God, to boldly ask for God to be true to His character and promises. He wants our trust. He may not give us the answer we want, or the timing we want according to his eternal perspective, but we still remember his goodness. Gratitude is the basis for trust.
Three simple steps include pouring out your pain, remembering gratitude and God's goodness, and boldly asking God for what we need. It is modeled in the Bible to appeal to God's character and promises.
I'm the man who has seen trouble, trouble coming from the lash of God's anger.
He took me by the hand and walked me into pitch-black darkness.
Yes, he's given me the back of his hand
over and over and over again.
He turned me into a skeleton of skin and bones, then broke the bones.
He hemmed me in, ganged up on me,
poured on the trouble and hard times.
He locked me up in deep darkness, like a corpse nailed inside a coffin.
He shuts me in so I'll never get out,
handcuffs my wrists, shackles my feet.
Even when I cry out and plead for help,
he locks up my prayers and throws away the key.
He sets up blockades with quarried limestone.
He's got me cornered.
He's a prowling bear tracking me down, a lion in hiding ready to pounce.
He knocked me from the path and ripped me to pieces.
When he finished, there was nothing left of me.
He took out his bow and arrows and used me for target practice.
He shot me in the stomach with arrows from his quiver.
Everyone took me for a joke, made me the butt of their mocking ballads.
He forced rotten, stinking food down my throat, bloated me with vile drinks.
He ground my face into the gravel.
He pounded me into the mud.
I gave up on life altogether. I've forgotten what the good life is like.
I said to myself, "This is it.
I'm finished.
God is a lost cause."
I'll never forget the trouble, the utter lostness, the taste of ashes, the poison I've swallowed.
I remember it all—oh, how well I remember— the feeling of hitting the bottom.
But there's one other thing I remember, and remembering, I keep a grip on hope:
God's loyal love couldn't have run out, his merciful love couldn't have dried up.
They're created new every morning.
How great your faithfulness!
I'm sticking with God (I say it over and over).
He's all I've got left.
God proves to be good to the man who passionately waits, to the woman who diligently seeks.
It's a good thing to quietly hope, quietly hope for help from God.
It's a good thing when you're young to stick it out through the hard times.
When life is heavy and hard to take, go off by yourself.
Enter the silence.
Bow in prayer.
Don't ask questions: wait for hope to appear.
Don't run from trouble.
Take it full-face.
The "worst" is never the worst.
Why? Because the Master won't ever
walk out and fail to return.
If he works severely, he also works tenderly.
His stockpiles of loyal love are immense.
(Lamentations 3:1-32)
Don't get hung up on getting prayer right or perfect. John Piper suggested you might start out by simply saying, "Lord, I'm trusting you to keep me trusting." Or, read a lament, and think of how many hurting people have joined you in that chorus.