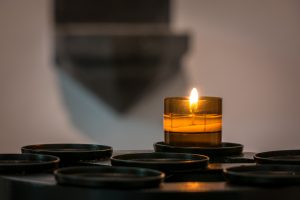 By Dan Blair, a marriage counselor and family counselor.
"Be still and know that I am God" (Psalm 46:10a).
The same emotion can either be positive or negative in the Bible. The Bible may command an emotion in one place and prohibit it in another depending on the context. For example, "In your anger do not sin: Do not let the sun go down while you are still angry." (Ephesians 4:26). Sorrow has its place but also has limits. Likewise, fear is appropriate in particular circumstances but a state of prolonged fear becomes problematic. The direction to not fear is one of the most common directions in the Bible. You could read one reference a day for over a year!
Emotions are signals and send messages that are sometimes misread. In that case the signal gets stuck and the emotion is prolonged excessively. If warning signals on the dashboard continue to light up one may develop anxiety about "driving," especially if the signals represent danger. Some may cover the dashboard, avoid feeling, and make some reckless decisions. Others may learn to devalue the signals. Still others may overanalyze the signal.
Signals to be properly interpreted need to be felt without fear. God provides a healthy option otherwise not available: "Cast all your anxiety on him because he cares for you" (1 Peter 5:7). Christ has come to "bind up the brokenhearted, to proclaim freedom for the captives and release from darkness for the prisoners." Like a parent who grabs a child from falling, Christ is saying, "I got you!" Even when we can't see light at the end of the tunnel, Christ is saying, "I got you!" "When you pass through the waters, I will be with you; and when you pass through the rivers, they will not sweep over you (Isaiah 43:2).